Looking to brunch in Blackheath? Here's the best breakfast spots in the city — from a local. Enjoy your breakfast!
This post may contain affiliate links. Check out my Disclosure & Privacy Policy for more information.
There's no area in London quite like Blackheath.
Just a stone's throw away from Greenwich this village-like hub is perfect for a weekend out in London. And of course, with every weekend, comes brunch. Without further ado, here's the best brunch spots in Blackheath to start your day like a local.
Best Brunch & Breakfast Spots in Blackheath
1. Madeleine's
It's hard to imagine a neighbourhood as unassuming as Blackheath holds one of London's best creperies — but it does!
As the story goes, it all started with a little girl named Madeleine in Port Blanc, sharing her delicious homemade treats with the local fisherman. Present-day (and nearly 100 years later) her legacy lives on with Madeleine's Creperie , right in the heart of Blackheath.
Of course, you'd be mad to pay a visit and not leave with a crepe in hand (or stomach). But lucky for you, there's tons of options to choose from.
You can top up your crepe with everything from savoury poached egg and salmon to decedant Blackcurrent Jam for the perfect breakfast in Blackheath.
Must-Try: Classic breakfast crepe
---
2. The Ivy Cafe Blackheath
If you're looking for a sit-down affair I suggest having your brunch in Blackheath at The Ivy Cafe.
The pictureque restaurant is well-known for their brunch menu, with a yummy collection of morning cocktails and all your favourite classic breakfast finds (Hot Buttermilk Pancakes anyone?).
Although the interiors are stunning, try dining al fresco if the weather permits — where you can sip on morning tea and take in the village scenes like a local.
Must-Try: Hot Buttermilk Pancakes & The Ivy 1917 Breakfast Blend
---
3. Blueberry's
Blueberry's is a new kid on the Blackheath cafe block, but trust me, its earned its stripes.
The quaint cafe was born in 2019 out of a love for fresh food and wholesome ingredients. And they've been making a mark on the breakfast in Blackheath scene ever since!
Enjoy the friendly atomosphere and neigbourhood vibe while you feast on fluffy French Toast and silky hot chocolate.
Must-Try: Rhubarb & Custard French Toast
---
4. Montpeliers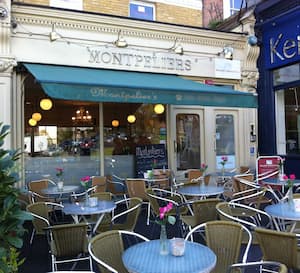 If you're looking to brunch in Blackheath like a local, Montpeliers is where you go.
The cosy French spot is casual and friendly. Ideal for pastries, coffee and taking in the lovely views across the Heath and All Saint's Church over morning brunch.
Must-Try: Breakfast Smoothie
---
5. Handmade Food
Handmade Food's are experts in seasonal goods, and a fantastic place to grab brekafast in Blackheath.
The shabby chic hub is described as a 'diamond in the rough' by locals, unpretentious, and delicious.
Brunch finds here range from seasonal quiches to Spanakopita Triangles and Jamacian Pattys — in short, you'll have plenty to choose from.
Must-Try: Seasonal Quiche Selection
---
6. O'Neills Boozy Brunch
Sometimes all you want is a good ole English Breakfast and booze. That's where O'Neill's comes in.
With any breakfast items and 2 cocktails (fizz or pints) for £12.50 it's an absolute steal. Take your pick from a hearty Full English to a delicious British Bap.
Must-Try: Hearty Breakfast / Hearty Veggie Breakfast
---
Map of the Best Brunch & Brekfast Spots in Blackheath
Happy brunching,
---
Read More on Blackheath, London:
• 🇬🇧 10 Best Things to do in Blackheath